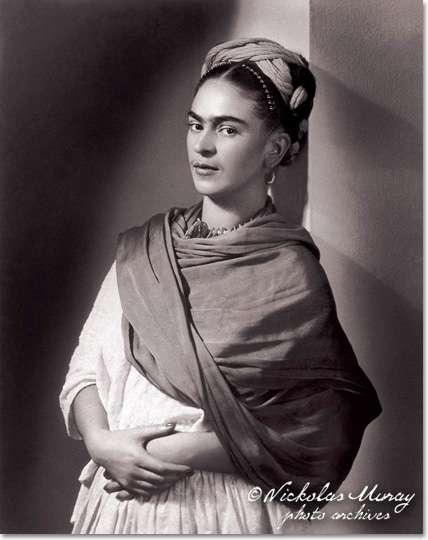 Frida Kahlo: The Breton Portrait – New York City – 1939
Andre Breton requested Nickolas Muray to print this portrait for him.
"Soon after carbon printing was invented in France in the 1850's, photographers began to experiment with other pigments beside carbon black. Using artist's pigments Adolphe Braun and others made beautiful photographs with pictoral effects usually seen only in painting.
Inspired by this tradition, this print is made with silver, graphite, carbon black, mica and a beautiful violet brown pigment. These pigments combine in thick layers to show Frida as if in three dimensions. The mica, graphite and silver commingle to render the long-ago atmosphere of Nickolas Muray's studio in shimmering light. Frida's eyes, which once gazed back at Nick, now look out at us, with beauty, with love." – Description by Tod Gangler
Color Carbon print (by Tod Gangler)
limited edition of 30 prints + 5 artist proofs
$7,000 US
for further information, please
email mlevitt@altalodge.com