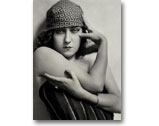 Nickolas Muray: Portrait of a Photographer
The Pera Museum in Istanbul, Turkey
25 January 2013 – 21 April 2013
This wide-ranging retrospective of Nickolas Muray's 50 year career is curated by art historian and Muray expert Salomon Grimberg. This link is to view the excellent catalogue for the exhibit. The works are drawn from George Eastman House, the Nickolas Muray Archive and various private collections.