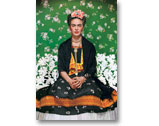 Viva Frida!
Salt Lake Public Library in Salt Lake City
16 September 2011 – 20 October 2011
This exhibit features twenty-four photographs of Frida taken my Nickolas Muray. It travels from SLC to Moab at the end of October, and will be at the Museum of Moab, opening November 1 until the end of the month.